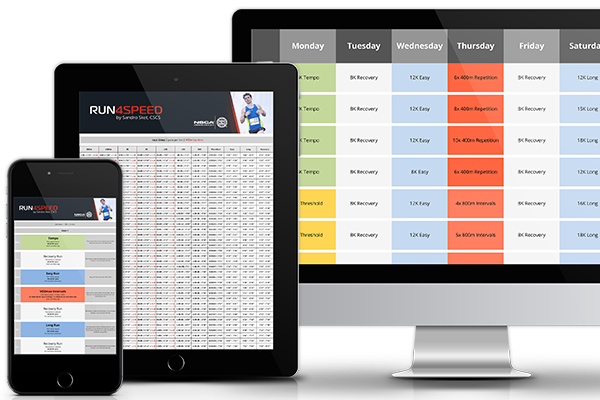 Marathon Pre-Elite Plan
This 16-week plan averages 70 miles (112 km)/week with 5 - 7 runs/week (2 of which are optional). It includes easy runs, long runs, threshold runs, VO2max intervals, and repetitions.
The long run starts at 13 miles (21 km) and peaks at 21 miles (33 km) in week 12.
Funnel periodization
first develops the general abilities of endurance & speed, then maximizes lactate threshold & VO2max, and finally emphasizes race-specific qualities.
I'm only an
email
away for questions that may arise during the course of this training plan.
The training method

In my opinion, the most suitable training progression for competitive road runners is
funnel periodization
(see graphic above). Since its short cycles continually train - or at least maintain - the full spectrum of physiological skills, it allows for multiple peaks within one season and seamless transitions to different race distances.
1. Foundation
- This is the
base + speed phase
which is characterized by extreme polarization.
2. Conditioning
- This is the
fitness phase
with a strong focus on VO2max and lactate threshold.
3. Race-Specific
- This is the
sharpening phase
where your marathon race-fitness is brought to a peak.
What others say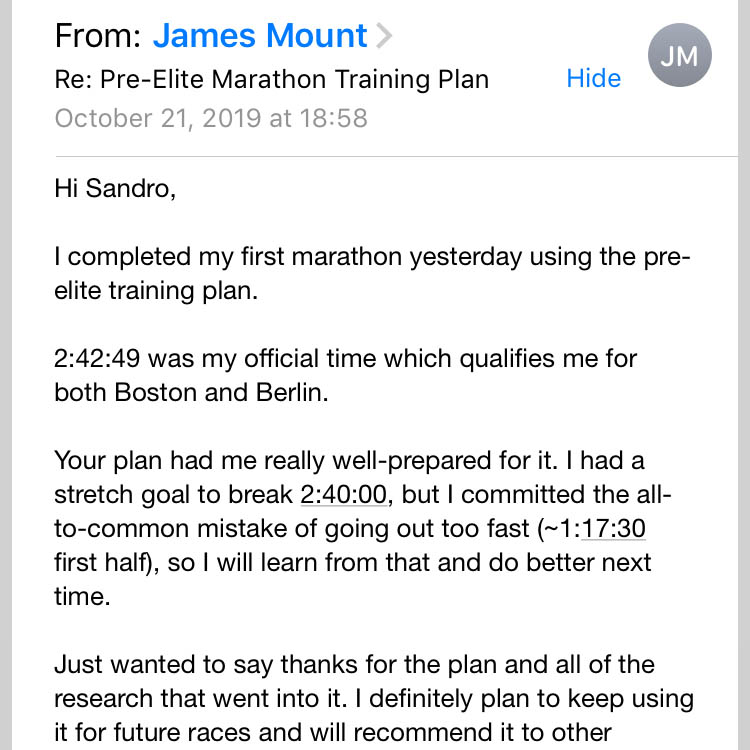 Hi! I'm
Sandro Sket
, NSCA-Certified Strength & Conditioning Specialist and coach to competitive runners. I'm an advocate of Renato Canova's funnel periodization, which builds a base of speed and endurance first before transitioning to race-specific abilities.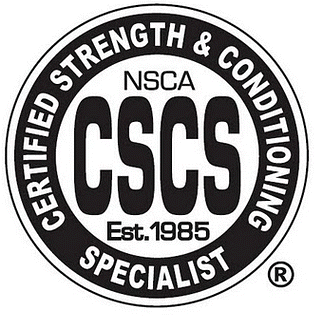 Certified Strength and Conditioning Specialists (CSCSs) are professionals who apply scientific knowledge to train athletes for the primary goal of improving athletic performance. They design and implement safe and effective strength training and conditioning programs.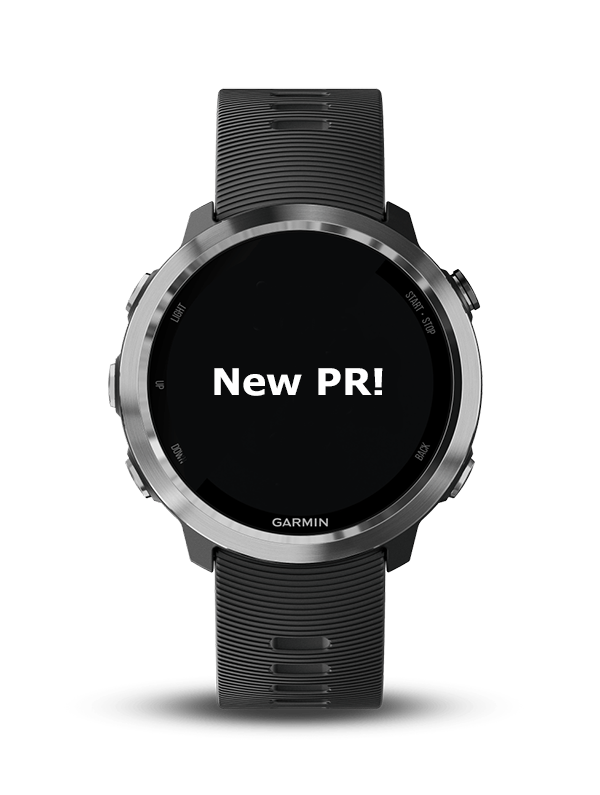 MAR Pre-Elite | Miles
$39
16-week PR training plan in miles
5 - 7 runs/week | 70 miles/week
✔ 16 pages with coach notes
✔ Custom heart rate zones
✔ Custom workout paces
✔ Coach support (email)
Instant download
Mar Pre-Elite | KM
$39
16-week PR training plan in km
5 - 7 runs/week | 112 km/week
✔ 16 pages with coach notes
✔ Custom heart rate zones
✔ Custom workout paces
✔ Coach support (email)
Instant download