HM
THE ANATOMY OF A HM
The half marathon is a serious distance in its own right. Though, it can serve as a springboard for faster marathon performances.
HM marathon race intensity
50% of your maximal speed
85% of your VO2max
3.5mmol/L blood lactate (LT = 4mmol/L)
HM energy supply
HM muscle fiber recruitment
100% of your slow-twitch fibers
52% of your intermediate fast-twitch fibers
2% of your super fast-twitch fibers
Half marathon training requires a unique combination of maximal aerobic capacity (VO2max), lactate threshold/tolerance, maximal running speed, resistance to fatigue, and running economy. In order to maximize these variables, you will need to carry out your training in different training zones.


NON-LINEAR PERIODIZATION
What's more, peak performance training requires a logical sequence where one adaptation piggybacks on another. I'm an advocate of non-linear periodization (multi-pace training) where the emphasis transitions from general to half marathon-specific pace.
Focus Block 1 = Twin-Base
Highly polarized training with a focus on the extreme ends of the pace spectrum.
>>> General Endurance + Maximal Speed
Focus Block 2 = Conditioning
The inclusion of middle-paces that develop your fitness to maximal levels.
>>> Lactate Threshold + VO2max
Focus Block 3 = Race-Specific
Emphasis on HM-specific training while all other variables are maintained.
>>> HM Race-Specific Endurance + Economy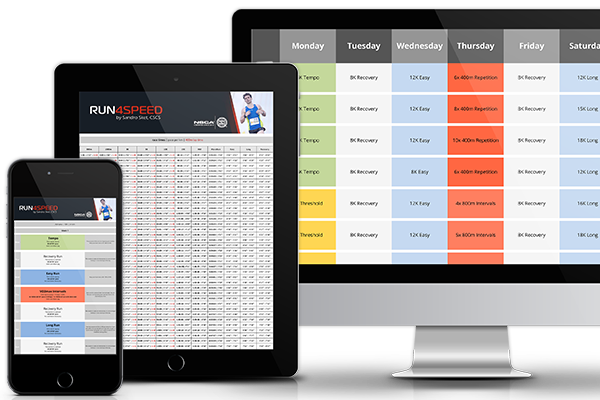 HM Training Plans
Faster times from the 5K to the marathon are not just the result of training more or harder. Start training with the non-linear periodization method used by professional athletes and elite coaches.

You can choose half marathon training plans from 4 levels or have one custom made for you.

✔ Elevate your aerobic capacity (VO2max)
✔ Boost your lactate threshold/tolerance
✔ Increase your neuromuscular power
✔ Upgrade your fatigue resistance
✔ Improve your running economy